KOR-FX gaming vest (wireless)

4DFX Haptic Feedback System
Versions
KOR-FX Gaming Vest (VR & PC & Console)
KOR-FX Gaming Vest for (VR & PC Compatible)
The KOR-FX gaming vest uses award-winning 4DFX technology that transforms the acousto-haptic signals (audio) coming from your games or media into pinpointed high-definition feedback that allows you to feel the on-screen action and environmental factors for the first time. Explosions rattle you. The blades of your attack chopper thump in your chest. It's the next generation of environmental realism. (Read More…)
This product is compatible with all VR platforms, due to demand usually ships within 4 to 5 days from time of order.
Features
The KOR-FX gaming vest uses award-winning 4DFX technology that transforms the acousto-haptic signals (audio) coming from your games or media into pinpointed high-definition feedback that allows you to feel the on-screen action and environmental factors for the first time. Explosions rattle you. The blades of your attack chopper thump in your chest. It's the next generation of environmental realism.
With KOR-FX, you can fine-tune how much—or little—of the game you want to experience. The vest is fully customizable, putting you in control of the amount of action you can feel. With our forthcoming Dev-Kit, game developers or enthusiasts will be able to design audio and game functions specifically for KOR-FX.
KOR-FX is not a rumble pack. Rumble packs use spinning motors to create vibrations. Our acousto-haptic technology uses audio to create precise, directed haptic output with special transducers. This output echoes into your chest cavity and turns your body into an instrument that allows you to feel the environment extremely accurately.
KOR-FX is fully compatible across a range of media and devices and can be used with anything that produces audio. Try it out on all your devices and with your entire media collection—KOR-FX is just as effective with your movies and music.
Features
Synced Environmental Feedback
Feel the action that's happening on the screen with pinpointed acousto-haptics.
Cross-Media Immersion
The KOR-FX experience doesn't stop with games—feel every explosion and bass line in movies, music, and other media!
Complete Customization
Tweak KOR-FX's settings to discover your perfect gaming experience.
Plug and Play
Safety Notes
KOR-FX generates powerful emotional and physical effects. Please use caution in using this device. We recommend taking regular breaks between extended periods of play and if you feel any discomfort when using the vest to please discontinue use.
If you have a heart condition, we advise you to check with your doctor before using KOR-FX. If you have a pacemaker or any other heart implant do not use KOR-FX as the product contains magnets.
Technical Specs
Adjustable (one size fits all).
Wireless with included dongle.
Works with any standard 3.5mm audio source.
Customizable haptic filters and power settings.
Works with PC and consoles, see setup section for details.
Vest requires 4AA rechargeable or standard batteries (not included) 30hr to 40hr estimated runtime.
Wireless dongle can be USB or battery powered with 4AA rechargeable or standard batteries (not included).
Recommended Games (Staff Picks)
While KOR-FX works with any game, these are some of the games that the staff has really enjoyed using KOR-FX with, please also see the forums http://forums.korfx.com/ to get a list of settings we use when playing these games. Feel free to ask questions and share you experiences on the forums.
Alien: Isolation

FPS

Battlefield 1

FPS

Battlefield 4

FPS

Bioshock 1 & 2

FPS

Bioshock Infinite

FPS

Borderlands 2

FPS

Call of Duty

FPS

Call of Duty: Advanced Warfare

FPS

Call of Duty: Black Ops

FPS

Call of Duty: Ghosts

FPS

Counter-Strike Global Offensive

FPS

Counter-Strike Source

FPS

Destiny

FPS

Fallout 4

FPS

Far Cry 4

FPS

GTA Online (GTA V)

FPS

Half Life 2

FPS

Left 4 Dead

FPS

Overwatch

FPS

Payday 2

FPS

Portal

FPS

Star Wars Battlefront

FPS

Titanfall

FPS

Tom Clancy's Rainbow Six Siege

FPS

Wolfenstein: The New Order

FPS

Alan Wake

Horror

Until Dawn

Horror

Assetto Corsa

Racing

Need for Speed: Rivals

Racing

Mortal Kombat

Fighting

Ultra Street Fighter IV

Fighting

Arma III

Simulator

DayZ

Simulator

Mafia 3

Action/Adventure

No Man's Sky

Survival

Gears of War 4

3rd Person Shooter
Testimonials and Reviews
Gaming News
Ben Kuchera, Polygon:
"…after using the system I'm close to ordering a unit for my own virtual reality setup at home."
Read More…
WD Coburn, App Rift:
"…the vest demonstrated to me the amazing level of immersion haptic feedback devices like the KOR-FX can add to virtual reality experiences."
Read More…
Spencer Kelly, BBC's Click:
"You can certainly feel the noises, the gunfire, the footsteps as they happen and you do get a sense of which direction they are coming from."
Read More…
Cory Vincent, Nerd Reactor:
"It sort of acted as just one more tool of sensory at my disposal to keep me aware of what was going on in the game…"
Read More…
Andrea Campton, Gameista:
"Each shell and loud movement was its own feeling, which didn't feel gimmicky, but natural."
Read More…
Darryn Bonthuys, LazyGamer.net:
"I'm genuinely enamoured by this hardware…"
Read More…
Buzz from the www
"this IS EVEN BETTER Than using an EXPENSIVE racing wheel in racing games"
-AntDX316 - KOR-FX Forums
"guys, I know I'm gushing here, but @@KorFxHaptics delivered what they promised."
-@WackoMedia - Twitter
"The @@KorFxHaptics Gaming Vest made me think I had an IMAX theater on my chest. Totally "feeling it"."
-@giansaldana - Twitter
"I have got to say that the KOR-FX is one of the most amazing devices that is now in my collection (Stockpile). I got to play with this thing, and it is incredible."
-Isaacdude123 - Twitter
"Just tried it out and wow, it does not disappoint! This vest is a whole new experience!"
-Raptor – KOR-FX Forums
---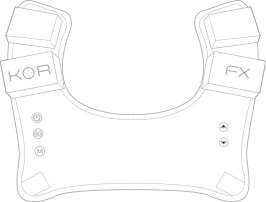 Kor-Fx Front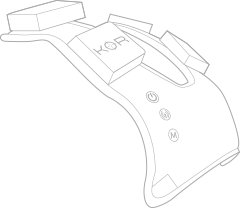 Kor-Fx Side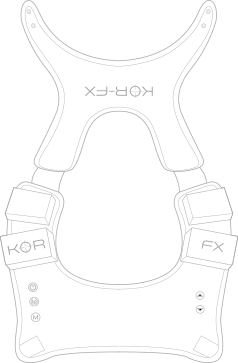 Kor-Fx Top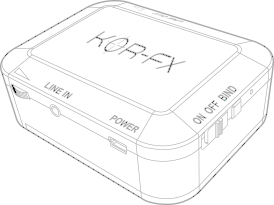 Kor-Fx Wireless Dongle